In today's data-driven world, it's vital for organisations to be able to extract and use useful information from massive data sets if they want to get an edge over the competition. Structured information can be extracted from many different types of digital assets, including web pages, documents, databases, and more. It's crucial for organisations because it allows them to take advantage of the insights gleaned by analysing large amounts of data. In this article, we'll discuss the data extraction industry and its place in the dynamic corporate world.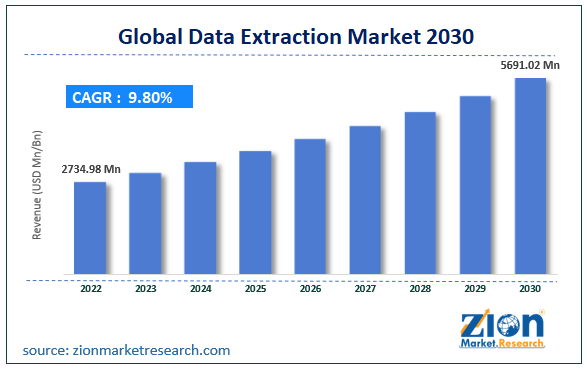 The exponential expansion of data has made it increasingly difficult for businesses to efficiently glean useful insights from a variety of sources. Manual data entry is not only inefficient for huge datasets, but it also introduces room for human error. In order to guarantee precision and free up human resources for more strategic endeavours, data extraction techniques and technologies have been developed to automate the procedure.
Market Growth and Trends
Companies have been realising the benefits of data extraction and driving the market forward in recent years. Market studies predict that the global data extraction market will continue its rapid expansion due to factors such as rising data production, the proliferation of digital transformation efforts, and the rising popularity of AI and ML tools.
By 2030, the global data extraction market is expected to be worth over USD 5691.02 Mn, up from an estimated USD 2734.98 Mn in 2022 at a CAGR (compound annual growth rate) of roughly 9.80 %.
Using natural language processing (NLP) and optical character recognition (OCR) technologies, more sophisticated data extraction solutions are becoming increasingly popular in the market. Data sources like social media, emails, and consumer feedback might benefit from NLP since the technologies can better analyse and grasp the nuances of the language used in such sources. In contrast, optical character recognition (OCR) enables computers to transform scanned documents and images into editable and searchable data, hence increasing the number of available data sources.
Benefits of Data Extraction
The adoption of data extraction solutions brings forth a plethora of benefits for businesses across industries:
Enhanced Decision-making: By converting raw data into actionable insights, data extraction enables data-driven decision-making. Businesses can identify trends, customer preferences, and emerging market opportunities, leading to more informed and effective strategies.
Increased Efficiency and Productivity: Automation of data extraction processes significantly reduces manual efforts, streamlining workflows, and boosting overall efficiency. This allows employees to focus on high-value tasks, ultimately improving productivity.
Improved Data Accuracy: Human errors in data entry can have severe consequences, leading to faulty analyses and misguided decisions. Data extraction tools ensure a higher degree of accuracy and eliminate such potential pitfalls.
Cost Savings: Investing in data extraction technologies can yield cost savings in the long run, as it reduces the need for extensive manual labor and minimizes the risks associated with data inaccuracies.
Compliance and Regulatory Requirements: Many industries have strict compliance and data privacy regulations. Data extraction solutions can help organizations meet these requirements by efficiently handling sensitive data and ensuring data security.
Challenges and Future Outlook
While data extraction offers numerous advantages, there are some challenges that the market faces. Dealing with unstructured data and managing data from a wide range of sources can be complex and require constant updates to stay relevant in a dynamic business landscape.
However, advancements in AI and machine learning will likely address these challenges. As these technologies evolve, data extraction solutions will become more sophisticated, accurate, and capable of handling even larger and more diverse datasets.
Global Data Extraction Market: Segment Analysis
By Component
By Enterprise Size
Large Enterprises
Small Enterprises
Medium Enterprises
By Deployment Mode
By Data Type
Semi-Structured
Structured
Unstructured
By Industry Vertical
BFSI
IT & Telecom
Retail & E-Comme   rce
Government
Healthcare
Manufacturing
Others
Read Also: