Tactical footwear is developed for military, law enforcement, and other tactical circumstances. These tactical shoes or boots are built of sturdy materials like leather or synthetic textiles and have a variety of functions.
Hikers and campers in particular appreciate the long life and excellent performance of tactical footwear in harsh environments. There has been a rise in the demand for tactical footwear among both military and civilian consumers in recent years.
There is a lot of competition in the market for tactical shoes because there are so many different companies who make and sell them. These businesses provide a wide selection of footwear, including boots and shoes suitable for various activities, as well as other components like insoles, socks, and laces.
The global market for tactical footwear is expanding primarily because of the rising number of military missions and operations. Tactical boots, as opposed to dress boots, are designed for use in combat and combat training. Today's tactical boots are built to withstand the rigors of combat while also protecting the wearer's feet, ankles, and legs while they walk.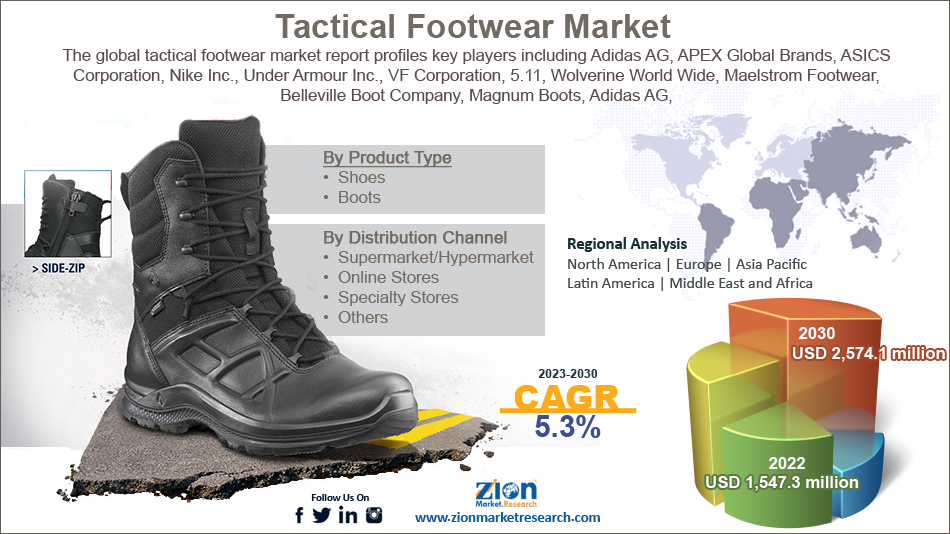 Tactical boots are a type of footwear engineered to maximize effectiveness in a variety of hostile environments. Full-grain leather, split leather, nubuck, suede, and synthetic leather are all used in the production of tactical boots. Leather protects troops' feet from a wide range of weather, is waterproof and breathable, and has a substantial impact on the longevity of a soldier's war boots. As a result, the growth of police and military security will lead to a rise in demand for tactical footwear.
By product, the market is segmented into shoes and boots. Of this, the footwear segment accounted for the maximum share of the global tactical footwear industry in 2022 and is expected to remain dominant during the forecast period. This is attributed to the fact that tactical boots are strong, sturdy, and durable, making them ideal for use in adverse and harsh conditions. In addition, military boots fall under the category of tactical footwear worn by military units to withstand harsh conditions. These boots have a regimental look and generally have a cap design. Most reputable shoe manufacturers make their shoes last a lifetime in a variety of tough situations. Hence, this segment is expected to show a significant growth rate during the forecast period.
By distribution channel, the market is divided into supermarkets/hypermarkets, online stores, specialty stores, and others. The offline segment is expected to gain the largest revenue share during the forecast period. Shoppers prefer offline channels because they allow them to see products in person, which makes it easier to check the quality of products and materials. Before buying, many people like to touch and feel bedding materials, especially things like shoes and boots. They can get a better idea of the quality and style of the product by wearing and seeing the colors and patterns on the leg. Customers shop in the physical store at home right now without having to wait for shipping or delivery. Thus, this is expected to lead to segment growth during the forecast period.
According to the end user, the industry is divided into men and women. The male segment is expected to hold a significant share during the forecast period. Operations are conducted by law enforcement professionals, military and special operations forces, security professionals, and public safety officers. These types of operations are mostly performed by men. These durable boots are usually designed for use in tough conditions and offer the wearer comfort and flexibility.
Global Tactical Footwear Market: Competitive Analysis
The global tactical footwear market report profiles key players including:
Adidas AG
APEX Global Brands
ASICS Corporation
Nike Inc.
Under Armour Inc.
VF Corporation
5.11
Wolverine World Wide
Maelstrom Footwear
Belleville Boot Company
Magnum Boots
Adidas AG,
The Global Tactical Footwear market is segmented as follows:
By Product Type
By Distribution Channel
Supermarket/Hypermarket
Online Stores
Specialty Stores
Others
By End Use
By Region
North America
Europe

France
The UK
Spain
Germany
Italy
Rest of Europe

Asia Pacific

China
Japan
India
South Korea
Southeast Asia
Rest of Asia Pacific

Latin America

Brazil
Mexico
Rest of Latin America

Middle East & Africa

GCC
South Africa
Rest of Middle East & Africa